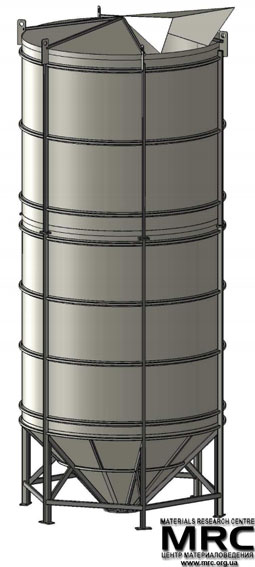 | | | | |
| --- | --- | --- | --- |
| | Ru | | Eng |
Materials Research Centre developes and manufactures receiving hoppers and bins for material supply.
Receiving hopper with capacity 10t/h has been developed for storing and discharging of the powder material like petroleum coke.
Application of Receiving hopper: It is intended for receiving the material from the carriers to compensate the uneven feed into processing line.
Components of the receiving hopper:
- multi-section hopper frame;
- material discharging mechanism
Hopper operation The material is fed into the opening at the top of the hopper. There it is kept during the shift. Further it goes down to be outputed with the system for dosing discharge in accordance with technological process.
Thickness of the hopper frame shall guarantee the mechanical durability of the equipment during transportation and operational environment taking into account the corrosion properties of the internal environment.
The hopper frame must have a split body design.
Also for the hopper in-line has been developed system of control and automation.

Before hopper manufacturing special study on the abrasive wear of its walls was conducted .
Engineering development, design, calculations of receiving hopper

Engineering design drawings of receiving hopper

Manufacturing of receiving hopper
Metal cutting, rolling out of sheets, welding and assembly. Outer casing of the hopper , manufacturing observation windows and spouts.