| | | | | | |
| --- | --- | --- | --- | --- | --- |
| Rus | | Eng | | | |
 TWENTY THIRD ANNUAL CONFERENCE - YUCOMAT 2022 TWELFTH WORLD ROUND TABLE CONFERENCE ON SINTERING - XII WRTCS 2022 Herceg Novi, August 29 – September 2, 2022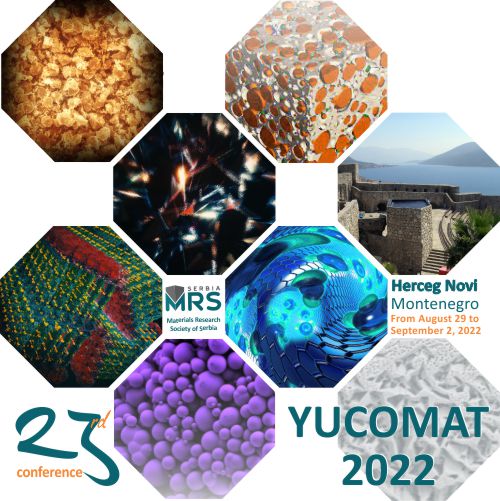 YUCOMAT conference included the participation of renowned plenary speakers, oral presentations, poster sessions and symposia related to contemporary programmes in the field of advance materials and nanotechnologies as well as an attractive social and cultural programme organised by Materials Research Society of Serbia and supported by FEMS. Big thanks to the European Office of Aerospace Research and Development (EOARD) for providing a grant to support Ukrainian scientists.
Our collaborators and partners presented our joint research at the Yucomat conference - at Symposium on Biomaterials and two collaborative posters at Conference Poster Session. 
CONFERENCE PROGRAM
Particular emphasis is placed on the following topics, but are not limited to:  Theory and technology of solid state and liquid phase sintering – fundamental and applied aspects; Grain boundary phenomena for advanced materials; Novel sintering methods: sintering under high pressure; shocked wave sintering; cold sintering; severe plastic deformation; low temperature sintering; hot pressing and hot isostatic pressing; laser sintering; spark plasma sintering; flash sintering; Controlled synthesis and processing of nanomaterials;  Processing and properties of high-entropy materials;  Microstructuralcontrol during sintering at multiple scales from nano to macro level o Hybride organic-inorganic materials;  Sintering in additive manufacturing;  Application of sintering theory in advance technology.
 Symposium on Biomaterials:
PCL-MXene composite electrospun membrane for nerve regeneration: structural and biological assessment
Kateryna Diedkova1, Yevhen Samokhin1, Veronika Zahorodna2, Ivan Baginskiy2, Vitalii Balitskyi2, Oleksiy Gogotsi2, Viktoriia Korniienko1
1 Sumy State University, 31 Sanatorna St, Sumy 40007, Ukraine,
2 Materials Research Centre, 3 Krzhizhanovskogo St, Kyiv 03680, Ukraine
Pulsed NIR laser for photo-thermal ablation of MXene-loaded cells.
Maksym Pogorielov 1,2, Sergiy Kyrylenko 1, Oleksiy Gogotsi 3, Ivan Baginskiy 3, Vitalii Balitskyi 3, Veronika Zahorodna 3, Yevheniia Husak 1,4, Ilya Yanko 1, Mykolay Pernakov 1, Anton Roshchupkin 1, Mykola Lyndin 1, Bernhard B. Singer 5, Volodymyr Buranych 1, Oksana Sulaieva 7, Oleksandr Solodovnyk 1,8, Alexander Pogrebnjak 1,6, Yury Gogotsi 1,9
1 Sumy State University, 31 Sanatorna St, Sumy 40007, Ukraine
2 University of Latvia, 3 Jelgavas St, Riga LV-1004, Latvia
3 Materials Research Centre, 3 Krzhizhanovskogo St, Kyiv 03680, Ukraine
4 Silesian University of Technology, 2A Akademicka St, Gliwice 44-100, Poland
5 University Duisburg-Essen, 171 Virchowstraße, Essen 45147, Germany
6 Al-Farabi Kazakh National University, Almaty, Kazakhstan
7 Medical Laboratory CSD, 45 Vasylkivska St, Kyiv 02000, Ukraine
8 VERBA MEDICAL LTD, 31А Lushpy St, Sumy 40035, Ukraine
9 Drexel University, 3141 Chestnut St, Philadelphia, PA 19104, United States
POSTER SESSION
Upscaling the manufacture of MAX phases and MXenes synthesis
Ivan Baginskiy 1, Oleksiy Gogotsi 1,2, Vitalii Balitskyi 1,  Veronika Zahorodna 1,2, Iryna Roslyk 1, Ivan Hryshko 1, Chris Shuck 3, Mikhail Shekhirev 3, Stepan Vorotylo 3, Yury Gogotsi 3
1 Materials Research Center, 3, Krzhyzhanovskogo street, Kyiv, 03142, Ukraine
2 Y-Carbon ltd, 18, Vasilevskoy street, Kyiv, 04116, Ukraine
3 A. J. Drexel Nanomaterials Institute, Department of Materials Science & Engineering, Drexel University, 3141 Chestnut Street, Philadelphia, PA, 19104, U.S.A
Femtosecond laser nanostructuring of MXene Films
I. Gnilitskyi 1,2, O. Gogotsi 3,4, V. Zahorodna 3,4, I. Baginskiy 3,4, V. Babizhetskyi 5, C. P. T McPolin 8, S. Bellucci 6, Y. Gogotsi 7 and A. V. Zayats 8
1 NoviNano Lab LLC, Pasternaka 5, 79015 Lviv, Ukraine
2 Department of Applied Physics, Lviv Polytechnic National University, 79013 Lviv, Ukraine
3 Materials Research Center, 3, Krzhizhanovskogo Str., 03142 Kyiv, Ukraine
4 Y-Carbon Ltd., 18, Vandy Vasilevskoy Str., 04116 Kyiv, Ukraine
5 Faculty of Chemistry, Ivan Franko National University of Lviv, Kyryla and Mefodia 6, 79005 Lviv, Ukraine
6 INFN-Laboratori Nazionali di Frascati, Via E. Fermi 54, 00044 Frascati, Italy
7 A.J. Drexel Nanomaterials Institute and Department of Materials Science and Engineering, Drexel University,
Philadelphia, PA 19104, USA
8 Department of Physics and London Centre for Nanotechnology, King's College London, Strand, London WC2R 2LS, UK