Carbon Nanomaterials, Second Edition
Series: Advanced Materials and Technologies
Published: October 17, 2013 by CRC Press
Content: 529 Pages | 296 Illustrations
Editor(s): Yury Gogotsi, Volker Presser
This book provides information on synthesis, properties, and applications of carbon nanomaterials. With novel materials, such as graphene (atomically flat carbon) or carbon onions (carbon nanospheres), the family of carbon nanomaterials is rapidly growing. This book provides a state-of-the-art overview and in-depth analysis of the most important carbon nanomaterials. Each chapter is written by a leading expert in the field which ensures that both, a review on the subject along with emerging perspectives are provided to the reader.
CRC Press (Taylor and Francis Group) printed the 2nd Edition of Carbon Nanomaterials book, edited by Yury Gogotsi and Volker Presser, on Oct. 17th 2013. The first edition, published in 2006 (second print produced in 2010) was on the list of CRC bestsellers for a long time and the second edition of the book should be at least successful.
Nanomaterials, which are materials with structural units on a nanometer scale in at least one direction, is the f astest gro wing area in materials science and engineering. Material properties become dif ferent on the nanoscale: for e xample, the theoretical strength of materials can be reached or quan- tum ef fects may appear. Carbon is as important for nanotechnology as silicon is for electronics, and certainly carbon nanomaterials deserv e a separate book.
Carbon nanomaterials are widely used in commercial products. Allmost all recent discoveries relate back to the work that was done decades ago. As is common for materials science, it tackes years for materials development to attain a mature state and the actual use and applicability of such materials start to become clear. New carbon materials with unique properties are discovered and explored for various applications - ranging from energy or gas storage, to catalysis, water treatment, medical implants, drug delivery, biofiltration, electronics, and many more fields. While tutoring students and teaching graduate courses on nanostructured carbon materials, the need for a comprehensive, yet up-to-date, textbook on carbon nanotechnology became clear to editors.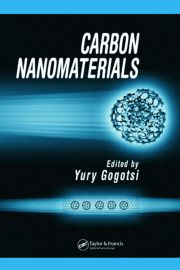 The first edition of Carbon Nanomaterials from 2006 has become outdated because of the rapid developments in the field. Currently, there are a growing number of mostly topical books on carbons; however , the variety of carbon nanomaterials and their applications is insufficiently reflected in such compilations. By completely revising and extensively expanding the first edition of Carbon Nanomaterials, book editors hope to reflect the diversity of carbon nanotechnology regarding their synthesis and properties and also provide insights into the actual applications. They follow the successful approach of having leading experts in their respective fields author single chapters to provide a "first hand" experience to the reader and in this way is providing an outlook on ongoing and future developments. Yury Gogotsi and Volker Presser hope that in the current compilation with 16 chapters, ranging from energy conversion and electronic applications, to water treatment and biomedicine, a representative cross-section is provided. Beyond the scope of the characterization and comprehensive understanding of the properties of carbon nanomaterials, scientiest are exited to see howmaterial engineers will be able to create unique carbon-based devices.
The chapters from the second edition have been either revised or represent completely new contributions. Examples for new chapters are the sections on carbon onions, nanodiamonds, graphene, and applications of carbon nanomaterials for biosensing and cell probes. With the rapid growth in the field of supercapacitors based on nanoporous carbons, a stand-alone chapter in the first edition has been the seed for the chapters authors F. Beguin and E. Frackowiak to write two books on that topic, namely, carbons for Electrochemical Energy Storage and Conversion Systems (2010) and Supercapacitors (2013). With such broad coverage of that field, editors are not covering this research topic in the second edition.(Preface from Carbon Nanomaterials, 2nd edition edited by Yury Gogotsi, Volker Presser, CRC Press, 2013)
Contents
Graphene: Synthesis, Properties, and Applications,
Zongbin Zhao and Jieshan Qiu

Fullerene C60 Architectures in Materials Science,
Francesco Scarel and Aurelio Mateo-Alonso

Graphite Whiskers, Cones, and Polyhedral Crystals,
Svetlana Dimovski and Yury Gogotsi

Epitaxial Graphene and Carbon Nanotubes on Silicon Carbide,
Goknur C. Büke

Cooperative Interaction, Crystallization, and Properties of Polymer–Carbon Nanotube Nanocomposites,
Eric D. Laird, Matthew A. Hood and Christopher Y. Li

Carbon Nanotube Biosensors,
Mei Zhang, Pingang He, and Liming Dai

Carbon Nanostructures in Biomedical Applications,
Masoud Golshadi and Michael G. Schrlau

Field Emission from Carbon Nanotubes,
Peng-Xiang Hou, Chang Liu, and Hui-Ming Cheng

Nanocrystalline Diamond,
Alexander Vul', Marina Baidakova, and Artur Dideikin

Carbon Onions,
Yuriy Butenko, Lidija Šiller, and Michael R. C. Hunt

Carbide-Derived Carbons,
Yair Korenblit and Gleb Yushin

Templated and Ordered Mesoporous Carbons,
Pasquale F. Fulvio, Joanna Gorka, Richard T. Mayes, and Sheng Dai

Oxidation and Purification of Carbon Nanostructures,
Sebastian Osswald and Bastian J. M. Etzold

Hydrothermal Synthesis of Nano-Carbons,
Masahiro Yoshimura and Jaganathan Senthilnathan

Carbon Nanomaterials for Water Desalination by Capacitive Deionization,
P. Maarten Biesheuvel, Slawomir Porada, Albert van der Wal, and Volker Presser

Carbon Nanotubes for Photoinduced Energy Conversion Applications,
Ge Peng, Sushant Sahu, Mohammed J. Meziani, Li Cao, Yamin Liu, and Ya-Ping Sun

Index
Professor Yury Gogotsi: Biography, Journal Articles, Papers, Books, Conference Presentations