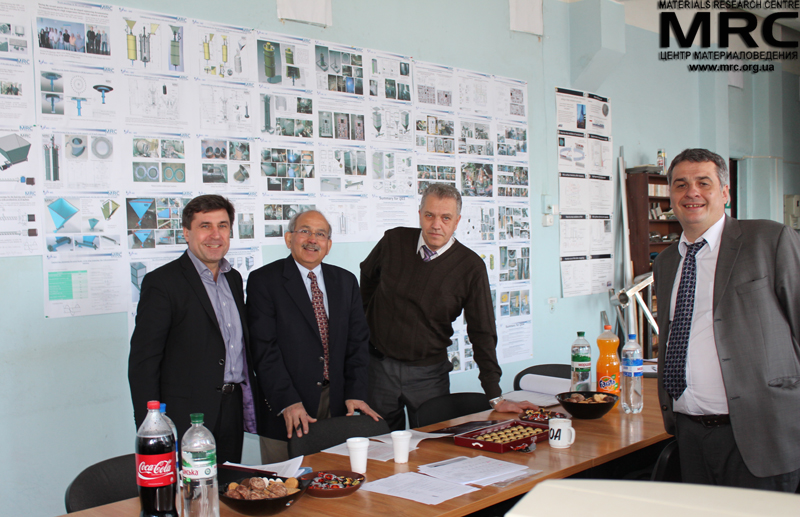 Participants of the working meeting on the R&D projects "New Materials for Electric Drive Vehicles" and "Recycling Spent Batteries for Electric Drive Vehicles" from American party  - Upendra S. Rohatgi, Brookhaven National Laboratory, Igor Barsukov, American Energy Technologies Company,Ukrainian organizations - O. Gogotsi, Materials Research Centre, M.Gubinskiy, NMetAU, S.Saenko, KIPT, and STCU representatives I.Tomashevskaya and N.Dudko.
Meeting and technological discussions on the project were held at MRC's office and workshop premises. It focused on the intermediate results and deliverables of the project, conducted experiments, assembly, testing and launching equipment. Also there were discussed large volume of research, experimental, engineering, and production works carried out by MRC and other project participants.
MRC director O.Gogotsi presented to American partners and other project participants posters, detailed presesntations, describing the main results of MRC work done for more than a year. Meeting participants also visited MRC workshop premises, where equipment for technology line is  manufactured and assembled.
The second day, on April 18, 2013, participants of meeting visited Gas Institute of NASU, where they demonstrated the operability of technological equipment manufctured within  the project "New materials for Electric Drive Vehicles".
On the third day of the international meeting, April 19,2013, there was held  a general meeting at Ukrainian Science and Technology Centre (STCU) with Deputy Executive Director Vic Korsun, Irina Tomashevska and Natalia Dudko (STCU), Upendra S. Rohatgi (Brookhaven National Laboratory, USA), Igor Barsukov (AETC, USA), Michael Gubinskiy (NMetAU), Oleksiy Gogotsi (MRC), Sergei Saenko (KIPT). The meeting discussed results and a great scale of research and manufacturing work done, performed by participants in the two projects according to work schedules and deadlines of their performance.
RELATED ITEMS:
Meeting and technological discussions on the project New Materials for Electric Drive Vehicles
International R&D project New Materials for electric drive vehicles