Structure, mechanical and photo-catalytic properties of titanium dioxide (TiO2) and tungsten oxide (WO3) films on a brass substrate.
Based on the studies involving MRC, international edition Applied Ceramic Technology has published the paper about photo-catalytic properties of tungsten oxide and titanium dioxide on brass substrate as well as practical application of the given coatings for brass products
Photocatalytic WO3 and TiO2 Films on Brass
Olha Mashtalir1,2, Murat Kurtoglu2,3,†, Sergey Pogulay1, Alexey Gogotsi1, Michael Naguib2, Yury Gogotsi2
1 Materials Research Centre, Kiev, 03680, Ukraine
2 Department of Materials Science and Engineering, A.J. Drexel Nanotechnology Institute, Drexel University, Philadelphia, Pennsylvania
3 Gurallar ArtCraft Inc., Kutahya, Turkey
†Department of Chemistry, Massachusetts Institute of Technology, Cambridge, MA
Cite: Mashtalir, O., Kurtoglu, M., Pogulay, S., Gogotsi, A., Naguib, M. and Gogotsi, Y. (2012), Photocatalytic WO3 and TiO2 Films on Brass. International Journal of Applied Ceramic Technology. doi: 10.1111/j.1744-7402.2012.02843.x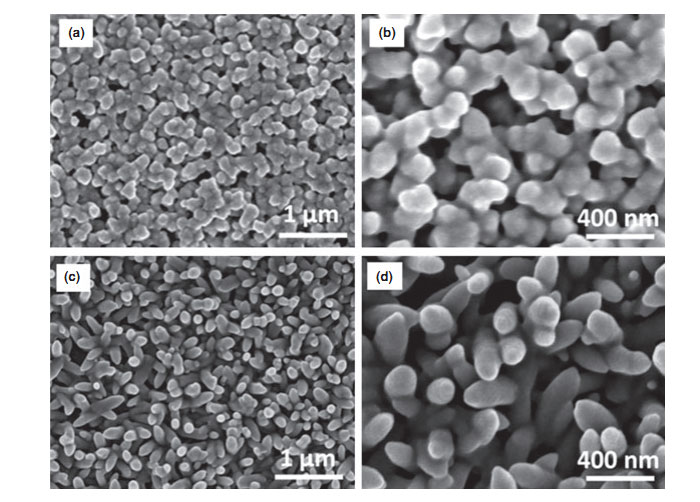 This paper reports on the structure, mechanical, and photocatalytic properties of titanium dioxide (TiO2) and tungsten oxide (WO3) films on a brass substrate. TiO2 and WO3 films have been successfully deposited on brass by a simple sol-gel dip-coating method and it has been shown that, while both films possess photocatalytic properties, WO3 films were superior to TiO2. Higher surface area and rod-like morphology of WO3 films might have contributed to their higher photocatalytic activity. Nanoindentation results have shown that both films attach well to the substrate and possess good mechanical properties.
On the SEM picture: brass with titanium dioxide coating (а, b) and brass surface covered with tungsten oxide (с, d)

Over the last few decades, interest in heterogeneous photocatalysis has been growing because of its promising applications in self-cleaning and antibacterial coatings, water and air purification systems, solar cells, and hydrogen production by water dissociation.
TiO2 has been one of the most studied materials among transition metal oxides because of its unique photoinduced catalytic activity, superhydrophilicity, nontoxicity, physical stability, and chemical inertness. Although TiO2 is still the gold standard, many other semiconductors, such as WO3, CdS, SnO2, SiO2, ZrO2, ZnO, Nb2O3,Fe2O3, SrTiO3, etc., have also been identified as potential photocatalysts. In particular, tungsten oxide (WO3) is a widely studied material because of its high photoactivity.
Therefore, film-substrate compatibility is an additional consideration required when selecting photocatalysts for film applications. While glass and ceramic materials are still the most popular of all substrates for photocatalytic films, metals have also attracted some attention, with the majority of research performed on stainless steel.
Brass is a very common decorative material because of its bright gold-like appearance and is widely used on railings, door handles, and other components that are touched by hands and would benefit from anti-bacterial coatings. Decorative panels on constructions would benefit from self-cleaning and protective coatings that would help to maintain the gold-like appearance of polished surfaces for a longer time.
That is why titanium dioxide and tungsten oxide films on a brass substrate were chosen as the subject of the study. Firstly one evaluated photocatalytic and mechanical properties of both films and then the results were compared with each other to study out what semiconductor is more promising as a photocatalitically active film on brass for practical applications.
Related items:
Materials Research Centre (MRC, Kiev, Ukraine) in cooperation with Drexel University (Drexel University, Philadelphia, USA) designed and produced the first in Ukraine active sample of dye-sensitized solar cell on ТіО2.