Scrubber systems are a diverse group of air pollution control devices that can be used to remove some particulates and/or gases from industrial exhaust streams. Scrubbers are one of the primary devices that control gaseous emissions, especially acid gases. Scrubbers can also be used for heat recovery from hot gases by flue-gas condensation.
| | | | |
| --- | --- | --- | --- |
| Rus | | Eng | |
A wet scrubber is used to clean air, flue gas or other gases of various pollutants and dust particles. Wet scrubbing works via the contact of target compounds or particulate matter with the scrubbing solution. Solutions may simply be water (for dust) or solutions of reagents that specifically target certain compounds.
Removal efficiency of pollutants is improved by increasing residence time in the scrubber or by the increase of surface area of the scrubber solution by the use of a spray nozzle, packed towers or an aspirator. Wet scrubbers may increase the proportion of water in the gas, resulting in a visible stack plume, if the gas is sent to a stack.
The basic scrubber configurations are:
Spray nozzle scrubbers - water are sprayed with high pressure through nozzles to produce the droplets in the air.
Venturi scrubbers - air or gas velocity is increased through a venturi shape - increased turbulence atomize the water droplets.
Packed bed scrubbers - air passes through wet-laden fiber mats where mists are collected. Not suited if solid particles are present in the air since the fiber mats may plug.
Spray towers are inexpensive control devices primarily used for gas conditioning (cooling or humidifying) or for first-stage particle or gas removal. They are also being used in many flue-gas desulfurization systems to reduce plugging and scale buildup by pollutants. Many scrubbing systems use sprays either prior to or in the bottom of the primary scrubber to remove large particles that could plug it.
Scrubber is intended for cleaning of flue gases from dust. A water-scrubber consists of a gas flow and a biological engine. In the water-scrubber the components to remove from the gas flow are absorbed in the water.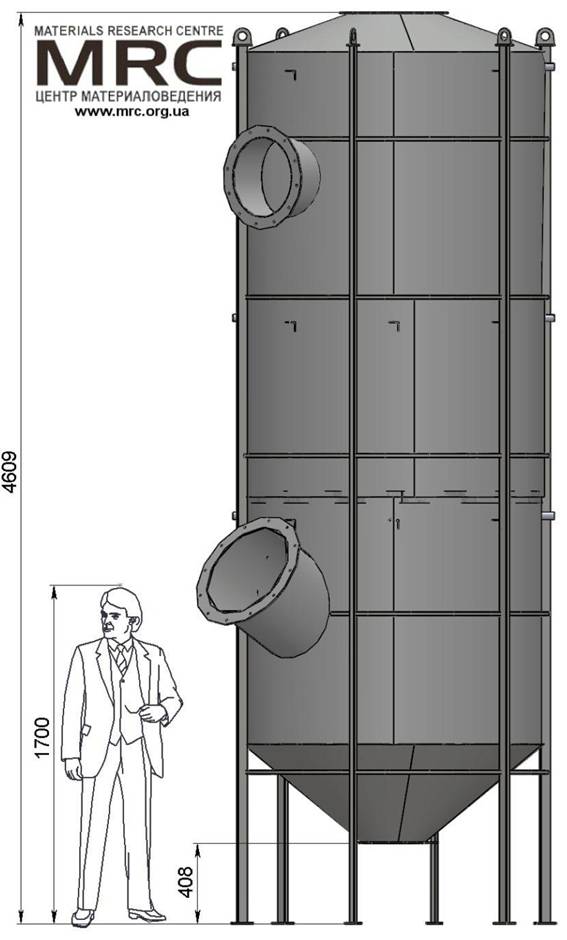 In the biological engine the absorbed pollution in the water is further decomposed biologically. The purified water is recycled to the scrubber where it absorbs pollution. Biologically degradable hydrocarbons are converted into the water-scrubber into H2O and CO2. The non degradable hydrocarbons remain in the water.