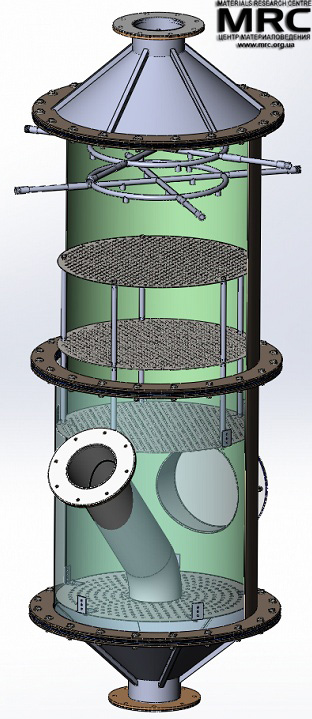 | | | | |
| --- | --- | --- | --- |
| Rus | | Eng | |
Application requirements. Scrubber is designed to "wash out" unwanted pollutants, like dust or sulphur dioxides from industrial exhaust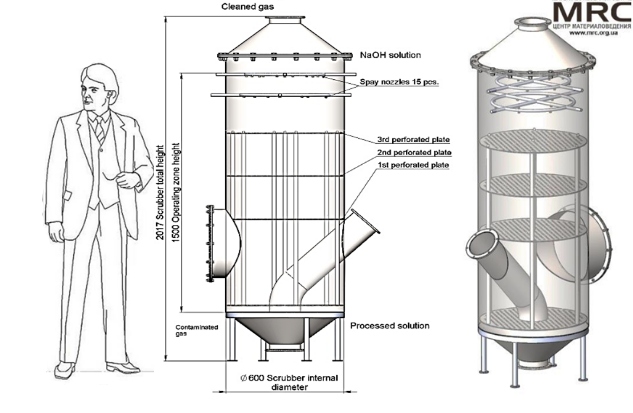 stream, created in the process of dispersed carbon-contained material burning out in the waste-heat boiler of the furnace for 1 tone/h.
Scrubber frame is designed for gas flows and water droplets organizing.
Irrigation system is designed for water supply and spraying inside the scrubber.
Sludge removal device is designed for sludge automatic removal from the scrubber.
Emergency water supply system is designed to cut off water supply if sludge removal from the scrubber is impossible. The inner surface of the scrubber should be resistant to corrosion under the influence of lean solution of sulfuric acid. The scrubber frame shall have openings for maintenance work. The frame must have a split body design to allow for repair work if necessary.The scrubber frame should have one or several technological openings (man-holes) providing for the unit maintenance (control of the surfaces general state, spay nozzles replacement, frame renewal etc). Spray nozzles should be replaceable.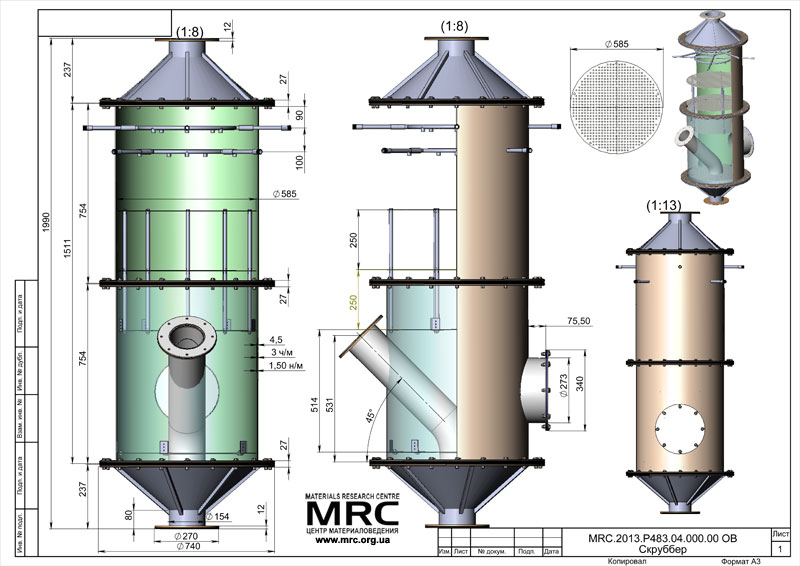 Operating requirements. Gas with pollutants is fed along the inclined gas flue to the bottom of the scrubber and then goes up.
On the top of the scrubber there are centered spray nozzles spaced in 3 tiers.
NaOH solution supplied under pressure is irrigated. Formed water droplets fall under the gravity force towards dustiness gas stream. They fall onto the perforated plates where bubbles and interaction of gas with solution takes place. Washing out of gas stream from sulfur oxides is based on absorption technology. The following reaction takes place when NaOH solution contacts with gas:
2NaOH+SO2→Na2SO3+H2O
NaOH+SO2→NaHSO3
2Na2CO3+SO2+H2O → 2NaHSO3
2Na2CO3+SO2 → Na2SO3+CO2
Processed solution and captured dust are gathered in the scrubber bottom part. Clean gas is discharged through the inclined gas flews, placed in the scrubber upper part.
Manufacturing of the scrubber: metal cutting, welding, argon welding, milling processing and assembling