American scientist, Professor of Electrical and Computer Engineering Sergey Lyshevski. The author of number of books and publications in the science leading branches like Nanotechnology, Microsystems, Molecular and Biomolecular processing and Clean renewable energy sources and systems, September 2012.
In September 2012 Materials Research Centre was attended by Sergey Lyshevski – Ph.D, Professor of Electrical Engineering Department of Electrical and Microelectronic Engineering, Rochester Institute of Technology, New York, USA.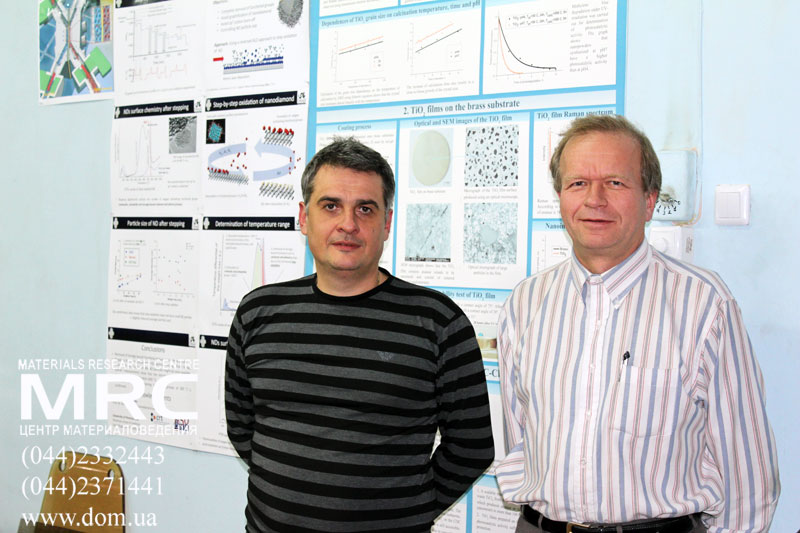 Currently Prof. Lyshevsky is working in nanotechnology, microsystems, molecular processing and quantum informatics. Prof. Lyshevsky is engaged in molecular and nanotechnologies implementation into control systems, connection, computers and intelligence systems. Professor's fields of research are also MEMS (micro electromechanical systems – technologies and devices which combine microelectronic and micromechanical components) and ICs in peripheral systems (actuators, sensors and smart structures).
On the photo: Prof. Sergey Lyshevski and Materials Research Centre's director Oleksiy Gogotsi at MRC office.
MRC is also engaged in nanotechnology and research studies of modern materials, developing of control systems and automatics. The meeting of Sergey Lyshevsky with MRC's director Oleksiy Gogotsi was devoted to issue of the day in the modern science, engineering and international cooperation questions. Special attention was paid to the design and analysis of ecological energy systems, nanotechnology, the problem of accumulation, storage and power conversion and integrated sustainable energy systems.