| | | | | |
| --- | --- | --- | --- | --- |
| Rus | | Eng | | |

Materials Research Centre developes, designs and manufactures screw conveyors and screw feeders for materials supply into technology line.
A screw conveyor is a device used in various industries to accurately meter or feed amorphous or loose grained materials from one part of a process to another.
A screw conveyor or auger conveyor is a mechanism that uses a rotating helical screw blade, mounted on a central shaft driven by different methods. This assembly rotates inside a tube fitted with a feeder mechanism at one end. Material is added at the feed end of the device and is transported to the discharge end by a process of positive displacement.
A feed screw is a component of certain types of industrial machinery that is designed to move, or feed, materials through a tube. Typically, a feed screw is a metal cylinder with an incline plane wound around its outside, resembling a long screw or auger.
Horizontal Screw conveyor.
Screw feeder basic function is moving of coke from the receiving bin into the calcination furnace. Source material inlet is designed for bulk materials loading. Auger moves bulk materials. Screw feeder outlet is designed to discharge processed material.

Horizontal screw conveyor operates as follows:
Bulk material (coke) enters the source material inlet. After that it is conveyed by rotation of the auger into the screw outlet, where it is discharged from.
The source material is fed into a through, and is moving along it by rotating of the through. Screw feeder principle is applying of axial driving force.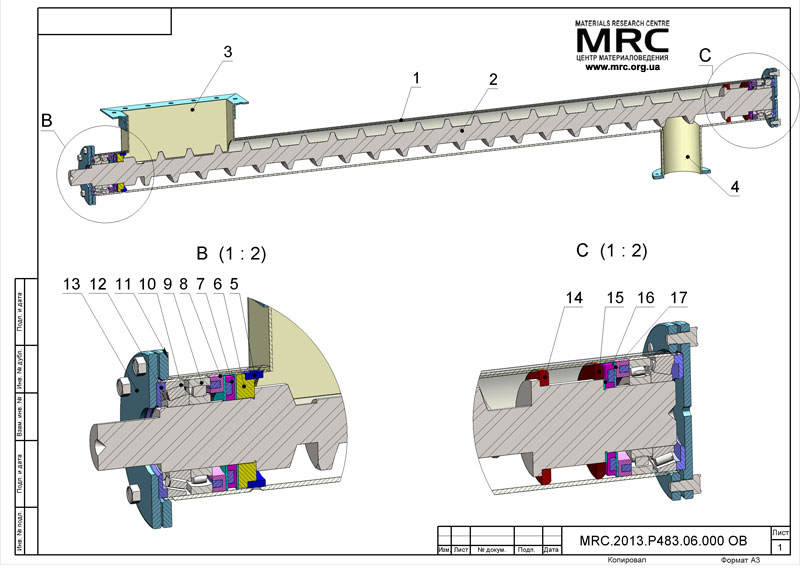 Screw conveyor design have openings for maintenance. Screw conveyor should have a collapsible design (or at least allow for) to provide for maintenance when necessary.
Screw conveyor unit consists of:
- source material inlet
- rotating helical screw blade (auger)
- ball bearings
- screw feeder outlet (for processed material)
- through (tube)
- screw feeder composes: electric motor, reduction drive and two couplings.

Horizontal screw conveyor (closed), 2 meters
Horizontal screw conveyor was developed and manufactured for coke supply into technological line.
The initial step in engineering a Screw feeder is to analyze the physical characteristics of the material and the rate at which it is to be handled.
Our engineers are available to assist you in every way possible to determine your best feeder design. Since the Screw feeder selected is based on a maximum volume control of material to be handled, surge loads, overloads and choke feeding must be accounted for in the screw feeder design.
We determine your material classification and required capacity. After size is determined then is determined exact screw feeder speed.
Manufacturing of the screw feeders parts, photos by Materials Research Centre.